Sun, 11 Feb 2007:
Oh, how often has that tired old line been repeated. But now, there are a lucky few in Yahoo! who can back it up with a certificate, which looks something like this.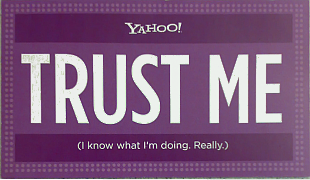 The card is given out once you take a trust fall, where the other guy/gal catches you while you fall and push you onto the soft padding. The card, on the flip side, has more content and it goes like this.

I've got the expertise to make the right decision here. So let me. 

Once you accept this card, you agree to avoid second-guessing me, 
escalating the situation, or switching on the blamethrower. 

If it works out, great. If not, I agree to take a fall.

Oh, and it says on the bottom - may not be transferred, sold or substituted for U.S dollars - maybe I should try paying it with some real geek money, like pizzas, beers or t-shirts.
Cheesy, cheap and corporate - but the designers had their hearts in the right place. And If you liked it, take a look at Yahoo! Bangalore's campus brochure.
--
Who does not trust enough will not be trusted.
-- Lao Tsu
posted at: 09:52 | path: /yblr | permalink | Tags: public, yahoo, fun