Tue, 05 Sep 2006:
Nobody expected Steve Irwin would be killed by anything other than an aussie salt water croc [1]. I mean, this was the man who'd put down Eaten By Croc down on his epitaph by choice - struggling with crocdilians in all four continents. And it was quite a surprise when I woke up to this news that he was dead, from a sting ray barb through his heart [2] - a very painful way to die, indeed.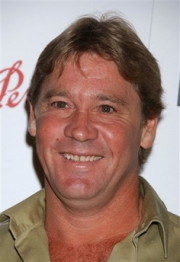 For someone who'd maintained a general irreverance to nature's deadliest creatures (most of which live in Australia, by some weird coincidence), I personally thought him to have aura of invincibility - a firm confidence that these animals mean him no harm, even when they were capable of snapping him into two bits without even trying. Crocodile Hunter wasn't just a nature documentary, it was reality tv with stunts and a fair bit of nature thrown in.
His antics might not have won him any respect from other wildlife experts, but he did manage to get a whole new generation interested in wildlife. If you watched a David Attenborough documentary about spiders and saw a spider in your backyard, you probably wouldn't hesistate to smush it out of existence. But if you'd watched a Steve Irwin special, you'd go looking for someone to throw it out. This guy put animals in your backyard, robbed them of their dignity and in some strange way, let us empathise with the animals. To the less ecologically sensitive masses, he put animals in a different perspective - one that made sense to them.
I'm sure he died doing what he loved, talking about things which could kill you, and him. I mean, I think that Douglas Adams is probably sitting up there wondering why he had to die while on the way to gym. Steve's got it much better, in comparison. Though it's Crocodiles:0 Stingrays:1 right now.
With condolences to Terri & the kids. Rest in Peace, mate.
[1] - /private/gator-baiter.avi
--
When I die, I want to be hit by a meteorite while I'm coding.
posted at: 01:21 | path: /misc | permalink | Tags: public, death