Mon, 30 Oct 2006:
Last thursday night, the last Karanavar of my family joined his ancestors. He was a teacher by profession and a painter by persuasion - a professor of zoology and a painter of landscapes. Even after retiring, he was one of the founders of the ICS entrance coaching centre in Cochin and continued teaching. I've never sat in one of his classes, but he was a teacher to me and much more.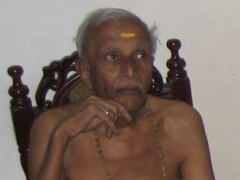 As a young boy, I used to gravitate towards his house. The first and primary reason was that there was a fridge (where fridges and grandparents meet, there is a likelihood of icecream). But what kept me hanging around was his VCR (also the first one in the neighbourhood). Eventually having run out of Mickey Mouse cartoons to watch, I would end up watching his collections of nature documentaries. I used to while away entire afternoons, watching some of the best documentaries BBC has ever produced. If I've acquired some sense of admiration for nature, it starts from those happy days in the eighties.
And then there was his workshop. He used to play around with electronics (when he was 60+) and one of the first things I saw built was a water level detector for the water tank. Eventually, every house around wanted one of these - encased in old transistor case, hooked up to its speakers to wail out when the water got too full in the tank (while pumping it). For the first time in my life, technology was cool.
He was a stickler to healthy living, a strict schedule and regular exercise. Sunrise would find him in the temple, even though he wasn't a blind believer in God. He was an epitome of health, having never suffered from diabetes or blood pressure disorders, which were common in his contemporaries. But then cancer struck its blow. He survived the first onslaught, went under the knife and managed to fight it without chemotherapy. It was not be, here was a secondary, that too in his vertebra.
But he still had his legendary nerves of steel. When I visited him a week back, pressure on his spinal cord had cost him use of both his legs. But as I was talking to him, he launched himself into a lecture about the human anatomy and how the hip bears the load of the whole body. What took me by surprise was the obvious conclusion - he will never be able to sit upright, not even in a wheel chair. I haven't met too many who could talk so lightly of their own fate.
No matter how many times it happens, it never gets any easier to lose someone. But eventually, you've got to reconcile yourself to carrying a little bit of them inside yourself.
And then, as I helped my uncles lift him to his funeral pyre, the thought came unbidden - Goodbye ... for now.
--
The Way of the warrior is resolute acceptance of death.
-- Miyamoto Musashi
posted at: 19:08 | path: /me | permalink | Tags: personal, family, death